Yurt Now!
Nomadic Design Relived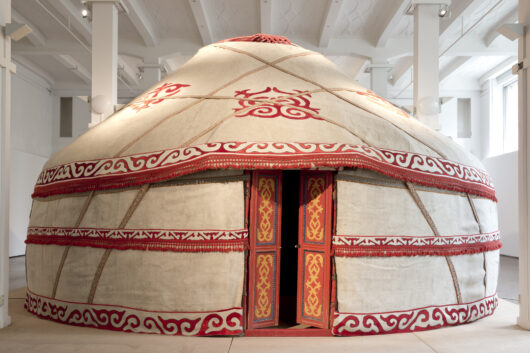 Housing and mobility are topics of intense socio-political debate and concern many people. The exhibition "Yurt now!" addresses the topic from a transcultural perspective. It deals with questions of mobility, sustainability, the preservation of established skills using the example of the Central Asian yurt and the contemporary significance of this form of space and life.
The characteristic round tents known as yurts still represent the nomadic lifestyle today and also serve as a source of inspiration for new perspectives and designs. At the center of the exhibition are two yurts from the MARKK collections – one created by the Kyrgyz textile master Turdu Kydyrbaeva in the 1980s and a Kazakh yurt acquired in 1906. Russian expedition photographs from the Kazakh steppe in the late 19th century provide a visual and historical context. They also draw attention to colonial and changing museum acquisition contexts. The contemporary artist Altynai Osmoeva, who takes Kyrgyz textile art and yurt structures as the starting point for critical reflections in her work, and the future designs for yurt architecture by the research and design office Rural Urban Framework, which are intended to meet new living requirements in the growing outskirts of the Mongolian metropolis of Ulaanbataar, open up contemporary perspectives.
An exhibition in collaboration with representatives of the Kyrgyz community. Supported with funds from the Free and Hanseatic City of Hamburg and the Mara and Holger Cassens Foundation.
TIP: Sat, December 16 | 2 – 6 pm: Theme day with guided tours and artist talk