Archive
The Museum am Rothenbaum holds numerous bequests from ethnologists, geographers, linguists and explorers. These include personalities such as Franz Termer, Karl Sapper, Johan Adrian Jacobsen, Hans Heinrich Brüning and many others. The bequests comprise, among others, correspondence, diaries, travel notes, manuscripts, maps and drawings.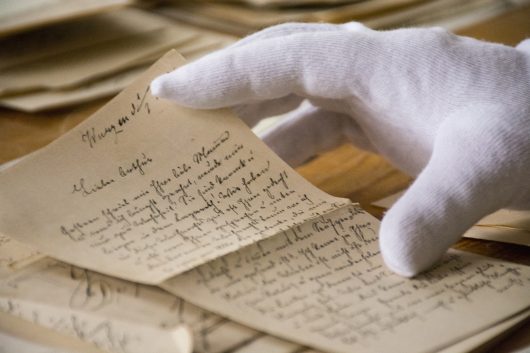 All bequests are unique and therefore belong to the museum's unparalleled collection. The particular importance of these historical sources on the one hand lies in the fact that conclusions can be drawn about the origin and significance of the objects in the collection. On the other hand, this special archive material contains records of regions as well as the ways of life and languages of numerous cultures of the earth from different periods.
The administrative archive is still under development, after a first intensive project phase in 2014, in which a rough inventory of the holdings and professional repackaging of the archive materials was carried out. The approximately 2,500 registered entries (since 1879) constitute the main heritage of the collection of the Museum am Rothenbaum. These had only been transferred into a filing system in the 1920s. In 1926, the first file plan and a "keyword card index" were created, which were maintained until 1950, but replaced within a short time by two new file plans and registry orders.
To date, a simple index (title, period, classification) is available for research and study purposes. A more in-depth indexing, especially of the collection objects, is being planned.
Would you like to use the holdings of the Archive?
Contact
Susanne Walther
fon +49 40 42 88 79 – 432
mail susanne.walther@markk-hamburg.de 
mail dokumentenarchiv@markk-hamburg.de
We would like to thank the Stiftung Hagenbeck for its support in setting up our archive of bequests.