Photographic Collection
With a stock of almost 450,000 pictures, the Museum am Rothenbaum holds a unique photographic collection. The oldest photograph known to us was taken in 1858, only seven years after the first glass plate negative was made.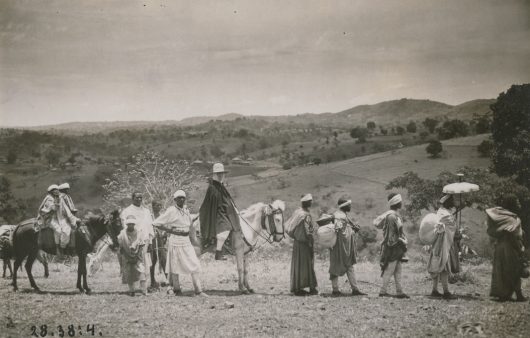 Some of the photographs are particularly noteworthy, such as Eduard Arning's paper negatives from Hawaii created in 1885. Other outstanding objects are the color autochromes in the mosaic screen plate process from the early 20th century with motifs from Bolivia by Franz Bandholz. Equally important are the more than 300 platinum prints of Mayan ruins that Teobert Maler created from 1875 onwards or the presumably first color photographs from Yemen that Carl Rathjens took on the then innovative Agfacolor Neu slide film in 1937.
In addition to numerous private photo albums and photo material from the history of research and teaching, the collection contains important stocks of expedition photos. They come, for example, from the so-called Inner Africa Expedition of Duke Adolf Friedrich of Mecklenburg in 1910/11 or the Hamburg South Sea Expedition between 1908 and 1910. The collection of Hans Heinrich Brüning from South America, the photographs of Johan Adrian Jacobsen from the American Northwest Coast as well as the former Museum Godeffroy Collection with a focus on Oceania often are at the heart of international, critical image studies on cultural history as well.
While for many decades photographs were primarily regarded as illustrative material, today the holdings are being catalogued as independent collection objects. Furthermore, due to the times and contexts in which they were taken, questions about the relationship between photographers and those photographed are increasingly coming to the fore. A critical examination of ethnological photography in terms of colonialism and racism has thus become an essential task of studies and museum exhibition practice.
Would you like to use the holdings of the Photographic Collection?
Contact
Catharina Winzer
Photo archive (management)
phone +49 40 42 88 79 – 680
efax +49 40 42 79 29 – 680
e-mail: catharina.winzer@markk-hamburg.de