Children's Birthday Parties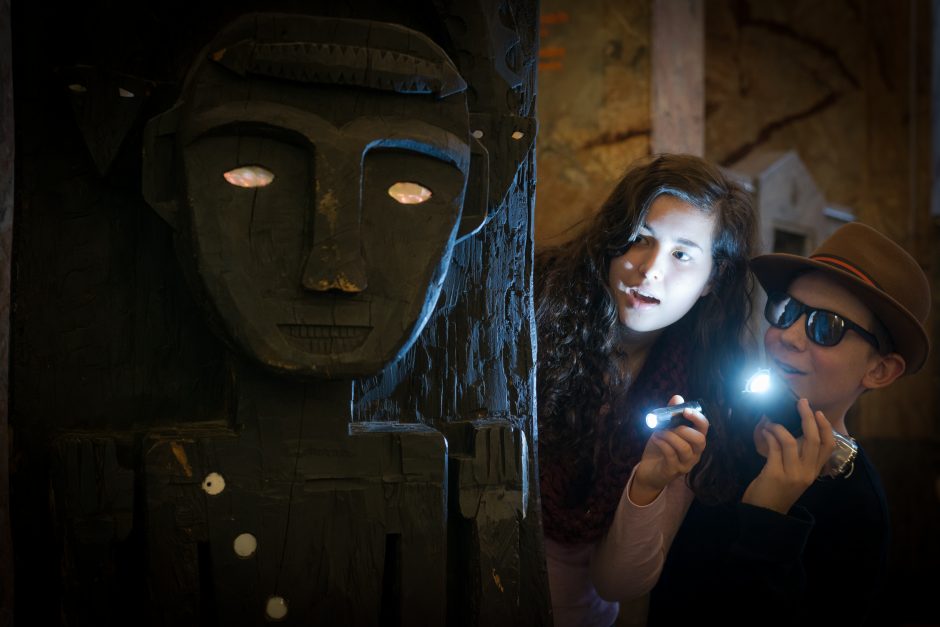 Have a birthday party with your friends! The birthday parties for groups of up to ten children are primarily game-based and designed to be fun. Depending on the program, cakes can be brought along for a break or a snack afterwards can be booked in the museum restaurant.
A menu of meals for birthday parties in the museum's restaurant can be found here: Restaurant Okzident Birthday Parties (in German)
Please bear in mind that the maximum number of participants must not be exceeded and that all participating children must be in the age group advertised. Siblings also count as participants.
Please note that it is not possible to use a room before or after the program.
For bookings contact
Museumsdienst Hamburg,
+49 40 42 81 31 0.
To the web site of Museumsdienst Hamburg
Detective Birthday Party: The Secret of the Shining Trail
Watch out, there's a crime scene! The museum was robbed of a mysterious object. Who can preserve the traces and explain them? This requires true sleuths who are able to think for themselves, puzzle over things and observe well. You will be busy with forensic equipment and have to help solve the case with unusual ideas. You will come across strange places with dark corridors, you will come upon furtive glances and enigmatic messages. But beware! Some clues lead to a dead end. Who knows if the Native American medicine woman, the magic figures from Africa, the mummy of the priest or the eerie masks from the South Seas tell the truth? In the darkness the solution of the case is suddenly within reach…
Maximum number of participants:
10.
Duration:
180 minutes, Super Birthday.
Intended age group:
9 to 12 years.
Please note:
All participating children must be able to read and write!
The birthday party is well suited for active children – going up the stairs, and down the stairs across the museum!
A snack (including all necessary accessories) and drinks for the break in between can be brought along by prior arrangement with the museum educator. You will find the contact details in your booking confirmation.
Man Du - really delicious!
Delicious dumplings taste good to everyone and almost every country has its own version, Maultaschen, Ravioli or Piroggi. In Korea they are called mandu. They are popular with everyone, big and small, because there is something for everyone: they come with different fillings, with vegetables or meat and in different sizes and shapes. That's why we want to shape them together and then cook, fry or steam them. And when the table is nicely set, the mandus will be a delicious feast. If time allows, there will certainly be time for games and presents…
Maximum number of participants:
10
Duration:
180 minutes
Intended age group:
4 to 8 years.
Please note:
1 € material costs per child.
Reis und neun Köstlichkeiten. Kochen für Geburtstagskinder
This looks delicious! We are heading to the exhibition Uri Korea: food stands, a restaurant with a table bell and a kimchi refrigerator give us an insight into the food culture(s) of Korea. Afterwards we will take action together: have you ever prepared a Korean dish? We will peel, chop and cook together, make place cards, write our names in Hangeul, the Korean alphabet – and when the table is beautifully set, everyone can feast on the treats they have put together for themselves. And since you eat with your eyes, too, we will also have a go at decorating rice balls for the specially composed Dosirak lunch box.
Maximum number of participants:
10.
Duration:
180 minutes, Super Birthday.
Intended age group:
For children aged 4 to 14. (Children should be able to hold a knife.)
Suitable for:
People with learning difficulties
Please note:
Kindly inform the art educator at least one week before your birthday party by e-mail about possible food intolerances or specify if vegetarian / vegan variations are required.
Per child an additional € 2 will be charged, to be paid directly to the executive art educator.
The birthday party can also be held in English upon request. (Please specify when booking.)
Exhibition:
Uri Korea
Please book with Museumsdienst Hamburg.
phone +49 40 42 81 31 0
To the web site of Museumsdienst Hamburg
---