North Africa, Middle East and Central Asia
This collection comprises holdings of Islamic societies in North Africa, the Middle East and Central Asia. Apart from some archaeological subsections, the collections mainly date from the 19th and 20th centuries and mainly comprise objects of traditional and modern everyday culture from urban, rural and nomadic environments. Numerous examples of Islamic art and crafts complete the collection.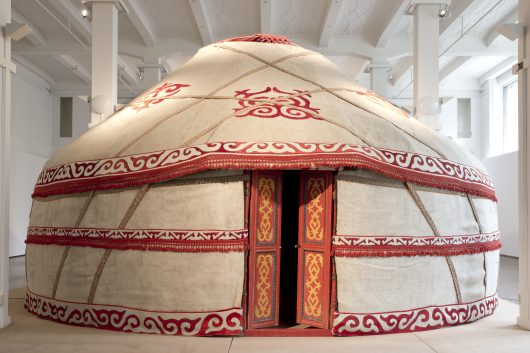 One part of this collection are the objects collected by the German ethnologist Ulla Johansen in the 1950s as part of a field study of the Yörük nomads living in Anatolia and her comprehensive photographic documentation.
Smaller batches of items from the Mashriq countries – Egypt, Palestine and the historical Mesopotamia (today Syria, southern Turkey, Iraq) – give insights into local crafts and domestic life and also include textiles and weapons. A smaller collection of Persian and Iranian objects includes, apart from weapons, lacquerwork, painted glass and textiles.
One focus of the collection is on the southern Arabian Peninsula. Especially notable is the collection of pre-Islamic archaeological and contemporary ethnographic objects of the Hamburg geographer Carl Rathjens (1887-1966), who was born in Schleswig Holstein. From 1927 onwards, he had created them on several journeys to Yemen, which at the time was still unexplored and almost inaccessible to Western visitors. Completed by an equally comprehensive photographic collection, it forms a unique contemporary document. The few objects from Saudi Arabia and Kuwait could be complemented with donations from the estate of Hans-Wolfgang Schwedhelm from Oman.
The holdings from the Central Asian region are more comprehensive. In 1906, a complete yurt of Kazakh nomads came to the museum through the dealer of ethnographic objects Umlauff. It was later complemented by a Turkmen example, which dates back to Yomut-Turkmen in Northern Iran and the 1940s and came to the museum in 1970 with complete interior decoration. In 2017, the museum was given a contemporary yurt from Kyrgyzstan as a donation from the Kydyrbaeva family living in Germany and the Kyrgyz community. In the last few years, the two Hamburg physicians Bernd Augustin and Stefan Völcker have donated archaeological and ethnographic objects of more recent date to the museum, above all carpets made by Central Asian nomads.
The heart of the North African collection from the Maghreb countries of Morocco, Algeria and Tunisia is a comprehensive collection of Moroccan ceramics, pottery utensils and soapstone works. It came to the museum in 1980 and 1988 as part of a fieldwork project by Rüdiger Vossen, head of the department at the time. In addition to products from well-known urban ceramics centers, it also contains numerous pieces from rural potteries, many of them from Amazigh regions.
---
List 1: COLLECTION North Africa, Middle East and Central Asia up to 1920
This collection was kept together with the European collection as "Eurasia" until 1995, the list therefore also contains objects from Europe.
Read more
List 2: COLLECTION North Africa, Middle East and Central Asia from 1921
This collection was kept together with the European collection as "Eurasia" until 1995, the list therefore also contains objects from Europe.
In order to confirm to privacy laws, this list is published without the names of collectors or former owners. Please address your questions to the regional curators or to info@markk-hamburg.de
Read more
List 3: COLLECTION North Africa, Middle East and Central Asia from 1996
In order to confirm to privacy laws, this list is published without the names of collectors or former owners. Please address your questions to the regional curators or to info@markk-hamburg.de
Read more