8th Benin Dialogue Group Meeting at the MARKK in Hamburg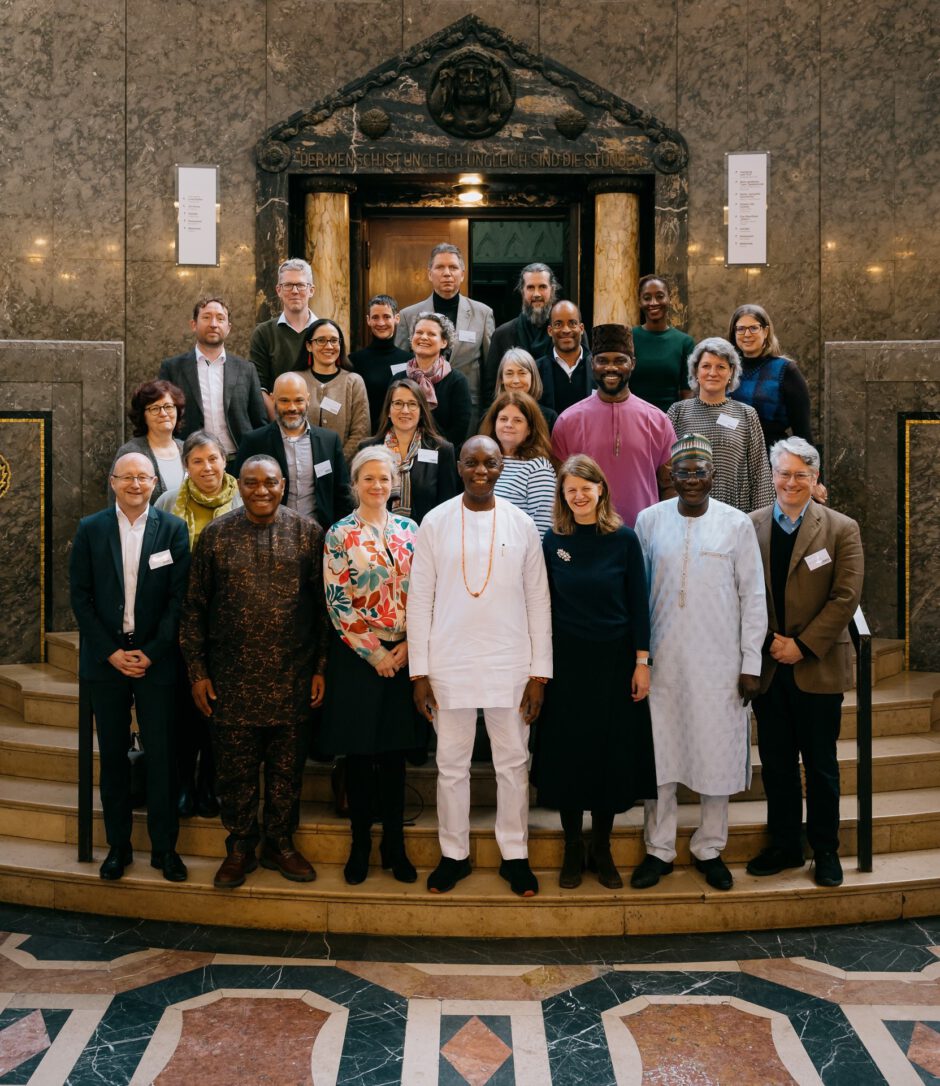 March 6 to 7, 2023
The Benin Dialogue Group has been pleased to come together as a group. Since the last meeting in October 2021 in London tremendous progress has been made.
The group welcomes the proposals presented by the Nigerian partners concerning the development of the museum landscape including the Benin Royal Museum in Benin City and the storage facilities for the returned artefacts. We are pleased to note that funds have been approved for the National Commission for Museums and Monuments storage facility.
We welcome the developments resulting in substantial restitutions, including by five major German museums, and the ongoing efforts by other members of the group. This opens the door to a new phase of collaboration and partnership.
Through the Digital Benin project significant progress has been made with respect to transparency to collections and the digital availability of information about them. Without the initial collaboration of all BDG member institutions Digital Benin would not have been possible. The BDG seeks to ensure the sustainability of Digital Benin in the future.
Ongoing digitization projects will provide new research insights and opportunities for education and outreach.
There is common agreement about the relevance of the BDG for future exchange, knowledge-sharing, networking, mutual support and collaborative research. In this vein we greet the concretization of plans for the National Museum of Unity in Abuja.
In order to support the expanded future activities of the BDG, three new members have been elected to the steering committee. A new secretariat has also been named.
The next meeting will take place in Stockholm, Sweden in May 2024.
Participating Institutions:
British Museum
Edo Museum of West African Art
Edo State Government
Linden-Museum Stuttgart
Museum am Rothenbaum – Kulturen und Künste der Welt (MARKK)
Museum of Anthropology & Archaeology Cambridge
National Commission for Museums and Monuments (NCMM)
National Museums of World Culture, Sweden
National Museum of World Cultures (Netherlands)
National Museum of Scotland
Pitt Rivers Museum
Rautenstrauch-Joest Museum
Royal Court of Benin
State Ethnographic Collections Saxony, SKD
State Museums of Berlin – Ethnological Museum, SPK
Weltmuseum Wien
New Composition of Steering Committee:
Co-Speakers:
HRH Prince Aghatise Erediauwa (Royal Court of Benin), Director General Prof. Abba Isa Tijani (National Commission for Museums and Monuments), Barbara Plankensteiner (MARKK)
Members:
Lissant Bolton (British Museum)
Jonathan Fine (Weltmuseum Wien)
Phillip Ihenacho (Edo Museum of West African Art)
Lars-Christian Koch (Ethnological Museum SMb/Humboldt Forum) SECRETARIAT
Karl Magnusson (National Museums of World Culture, Sweden) NEW
Enotie Ogbebor (Edo State Government)
Nanette Snoep (Rautenstrauch-Joest Museum) NEW
Nick Thomas (Cambridge Museum of Archaeology and Anthropology) NEW
The MARKK thanks the German Federal Foreign Officefor the financial support to hold the meeting in Hamburg.