Europe
The Museum am Rothenbaum is the only ethnographic museum in Germany with a European collection. It comprises Western and Eastern Europe as well as the North Asian region and is delimited in the south by the Caucasus.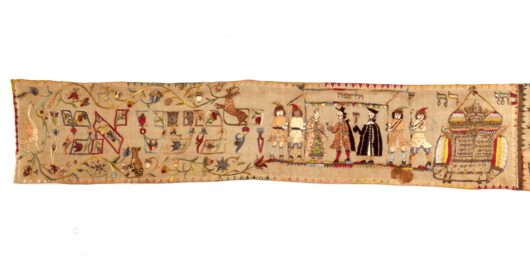 The collection is basically structured according to collectors. Especially notable are Arthur Byhan (1872-1942), the first head of the museum's then "Eurasian Department", ethnologist and dealer of ethnographic objects Julius Konietzko (1886-1952) and the Hamburg oculist Siegfried Seligmann (1870-1926). From Byhan, there are objects from Hungary, Romania, Bulgaria and Russia, but also from Sardinia. Apart from geographical principles of collecting, he was also interested in certain ethnic groups such as the Serbs and Croats.
Konietzko, again, specialized in the North and South-West European regions, especially Finland, Ireland and Scotland, Spain, Italy and Switzerland. Konietzko also collected according to groups, for example objects of the Scandinavian Sámi.
In 1927, Siegfried Seligmann donated an extensive collection of amulets to the museum. Important collections from Iceland came to the museum through Hans Kuhn (1899-1988). Equally noteworthy is the collection of more than 3,000 ceramic objects and pottery utensils from Spain, which was built by Rüdiger Vossen in the years since 1970. It is one of the most comprehensive ceramics collections outside Spain.
Among the important new acquisitions from recent times are the excellently documented collections of Marianne and Peter Reinicke on Sweden and of Kaarina Dehls on Finland. In 1996, the museum obtained a diverse collection of 19th century religious folklore from the village of Großenwörden in the North German district of Stade.
Among the important individual objects of the European Collection are a Jewish Torah pennant and the so-called Gall's skull. The Torah pennant was donated to the synagogue in Halberstadt in 1711 in honor of the birth of Mordecai Gimpel and was donated to the museum in 1917. The skull with delineated brain and character areas according to the theory of the physician Franz Joseph Gall (1757-1828) comes from his own study and research collection.
---
List 1: COLLECTION Eurasia up to 1920
Until 1995, this collection was managed together with the North Africa, Middle East and Central Asia collection as "Eurasia". The list therefore also contains objects from those regions.
Read more
List 2: COLLECTION Eurasia 1921 – 1995
Until 1995, this collection was managed together with the North Africa, Middle East and Central Asia collection as "Eurasia". The list therefore also contains objects from those regions.
In order to confirm to privacy laws, this list is published without the names of collectors or former owners. Please address your questions to the regional curators or to info@markk-hamburg.de
Read more
List 3: COLLECTION Eurasia from 1996
In order to confirm to privacy laws, this list is published without the names of collectors or former owners. Please address your questions to the regional curators or to info@markk-hamburg.de
Read more