Oceania
The department's collections comprise objects from the Pacific island states of Melanesia, Polynesia and Micronesia. Australia and large parts of the Malay Archipelago are also integrated into the department for historical reasons. Most of the objects date back to the 19th century and the beginning of the 20th century.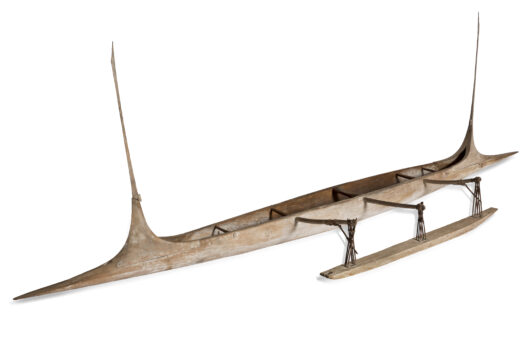 Already in the 1880s, the collection experienced its first decisive expansion by taking over some 700 objects from the dissolved Godeffroy Museum, which was associated to the company Joh. Ces. Godeffroy & Sohn and which brought numerous ethnographic objects to Hamburg through overseas trade.
"Rauru", the meeting house from New Zealand completed and inaugurated around 1900 at Whakarewarewa, is unique in Europe due to its completeness. Since 1912, it has been located in the upper south wing of the museum and provides important points of reference for the exchange with the descendants of the carving families, who feel particularly connected to this taonga.
The department's main focus is on collections from the Bismarck Archipelago, New Guinea and the Caroline Islands. Shortly after the turn of the 20th century, the museum acquired the comprehensive collection of the merchant Franz Emil Hellwig from the islands of Wuvulu and Aua. Above all, the Hamburg South Sea Expedition initiated by Georg Thilenius in 1908-1910 contributed to the creation of mostly complete and well-documented collections of masks, dance equipment and sculptures from the German colonial territories. Substantial acquisitions in the 1960s added several hundred pieces from the interior of today's Papua New Guinea to the collection.
The Micronesia Collection is dominated by everyday objects, such as household goods, clothing and fishing utensils, most of which were acquired in the second year of the Hamburg South Sea Expedition on the Caroline Islands. More recent acquisitions above all demonstrate the revival of traditional crafts.
The focus of the Australia Collection is primarily on ritual objects, jewelry, weapons and clothing of the inhabitants of Northwest and Central Australia. Especially the collections of the missionary Oskar Liebler and the Breslau anthropologist Hermann Klaatsch dating back to the first and second decade of the 20th century are essential here. The museum owes recent additions from Western Australia to the Oceanist Helmut Petri.
The profile of the Indonesia Collection has been shaped by extensive new acquisitions since the 1970s, namely shadow puppets and fabrics made in the course of field research by curator Clara Wilpert. Like the other sections of the collection, it had lost significant holdings during the Second World War. A particular highlight here once was the collection of the physician Johannes Winkler, dating back to the beginnings of the 20th century, with its testimonies of the culture of the Batak on the island of Sumatra.
---
List 1: COLLECTION Oceania up to 1920
Read more
List 2: COLLECTION from the "Hamburg South Seas Expedition"
Read more
List 3: COLLECTION Oceania from 1921
In order to confirm to privacy laws, this list is published without the names of collectors or former owners. Please address your questions to the regional curators or to info@markk-hamburg.de
Read more